Kern Crane Scales
We can supply only or supply and install the German manufacturer Kern's range of crane scales and other industrial scales such as pallet truck and trolley scales.
These crane scales are of very high quality with 2 or 3 year warranties and are very competitively priced. All units come with a remote control and long life rechargeable batteries with extra battery packs available.
All crane scales purchased through us will be entered into our Online Equipment Database to ensure you are notified when inspections become due.
Contact us for current prices.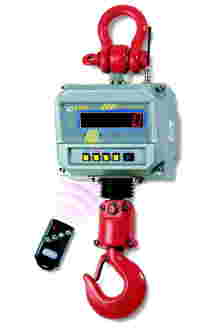 The HTS unit can measure up to 10,000 kgs and has a 3 year warranty
The HUM range is available in 1,000 or 3,000 kg versions and have 3 year warranties
The HUS range is available in 60 to 600 kg versions and comes with 2 year warranties
Tel: +353 (0)1 247 9199 (this number is monitored 24 hours for service/breakdown)
Email: parts@proservecranes.com