Crane and Hoist Online Equipment Database
Our secure Online Equipment Database for cranes, hoists and parts etc is a powerful tool available 24/7 to customers who use our inspection, certification, service and repair  services.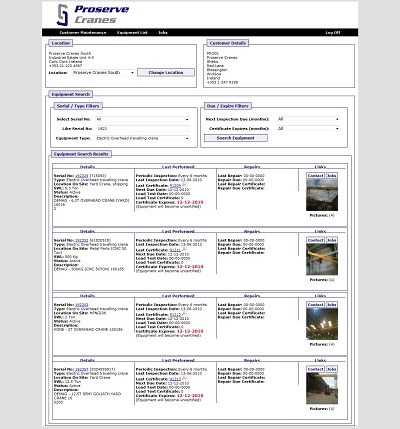 Its advanced features allow clients 24/7 access to a complete installation, service, repair, inspection and certification history for all their equipment known to us.  When accessing the database clients can view the progress of ongoing work or check the current status of any of their equipment including the viewing and printing of scanned job sheets, inspection and load testing certificates (manual and computer generated PDF versions) and photographs or video of ongoing repairs or issues.
Customer access to the database has been designed to work via any of the commonly used web browsers such as Explorer, Firefox, Safari etc and will also work with an extensive range of portable devices such as smartphones and the Apple iPad.
Clients can also download their equipment data in CSV or XML format for use within their own computer systems (for import into Excel or MRP systems for example).
The database tracks when equipment certificates will expire and services are due and will automatically email both the client and Proserve within an appropriate timescale to allow work to be scheduled.  All work scheduled or completed can be accessed on a Job or equipment basis (there may be 50 items of equipment to be inspected within one job or a number of jobs for specific repairs on different pieces of equipment).
This can greatly assist a customer in managing their equipment portfolio and help to reduce unscheduled downtime.
Using our contact box function, customers can click a highlighted job or piece of equipment in order to raise queries or highlight concerns about that job or piece of equipment.  All relevant details about the job or piece of equipment will be automatically included in the message sent to Proserve and copied to the customer (asset & serial numbers, job numbers, location in factory, description etc).  This reduces the chance of mistakes and confusion where a customer has many pieces of equipment and assists greatly in ensuring correct parts are ordered, for example, if a repair is required.
For example:
A customer may want a quotation for the purchase a new hoist of the same type as an existing one  - just click the existing one, a contact box appears, type "Please give me a price on one of these for delivery asap" and click send.  We have everything we need to give you a price as quickly as possible - no time wasted finding model and serial numbers and manufacturer or SWL details.
or
A gearbox fails on a jib crane during nightshift and does not require the attention of our 24 Hour Breakdown Service - click on the equipment as above and in the contact box "Gearbox has failed, we have a new one in stores, please confirm you can attend to replace on Monday morning".
or
A non critical service job is scheduled to be done on a Saturday but can now be done (cheaper!) during a normal working day - click on the job, a contact box appears, type "Please re schedule this job for Thursday or Friday next week as we have downtime in that area of the factory"
or
During a service on a gantry crane a brake disc is identified as needing replaced and the customer notified.  The customer can click on the provisional job created by Proserve Cranes which details a price for the work, a contact box appears, type "Happy with the price and note parts take one week, please confirm job for Sunday 31st and use PO 123456"
All notifications made using the contact box function are copied to one or more customer contacts as identified by the customer i.e. a maintenance manager might request work to be done and both they and their manager can be notified.
Data is entered into our database whenever equipment is supplied, serviced, repaired or inspected by Proserve Cranes.  We can also use a new clients existing data to pre populate our database.
New Equipment Installations
When new equipment is supplied by Proserve Cranes data such as customer asset and manufacturers serial numbers, SWL, location within a site, service and inspection intervals and the type of equipment are recorded in our database.
In addition, photographs of the equipment and its installation are taken, stored and made accessible to both the customer and Proserve Cranes.  A picture is also assigned as the default picture to be printed on any regular inspection or load test certificates produced by Proserve Cranes.
The Proserve Cranes Job sheet completed by the attending technicians will also be scanned, stored and made accessible.
Crane Servicing
Details of the service work are recorded on our job sheet which is then scanned and stored within the database as above.  In addition, details are recorded against the Proserve job within our database and any photographs taken are also stored.
If any parts are identified as needing repaired or replaced a provisional job will be created by Proserve technicians which will include a quotation for the work and the customer will be notified.  Photographs or video will be recorded of the affected parts.
The customer can review the outcome of the service work online and use the contact box function to query and/or approve any provisional jobs created.
Crane Repairs
Any repair work performed by our technicians is recorded on our job sheets and entered into our database as above. When the repair job is recorded as completed the identified customer contacts are notified and details of the repair are available for viewing by the customer.
Crane Inspection and Certification
Regular inspection jobs will be automatically created by our systems and the customer notified for their approval and the scheduling of the work.
Each inspection job will include all equipment that requires to be inspected during a particular time frame.  A customer can request that equipment be added or removed from an inspection job using the contact box function.
Most pieces of equipment will generate a hand written certificate detailing the results of the inspection (smaller pieces of equipment such as slings are included on one hand written certificate) and all will result in a unique computer generated certificate in PDF format. The PDF certificates will be emailed to a customer identified contact as they are created.
Both the hand written and PDF certificates can be accessed by the customer via the job or equipment views of the database.
Any repair work deemed necessary or recommended will be highlighted and provisional jobs created for the customers approval (again photographs or video will be available).
HSA or Insurance Implications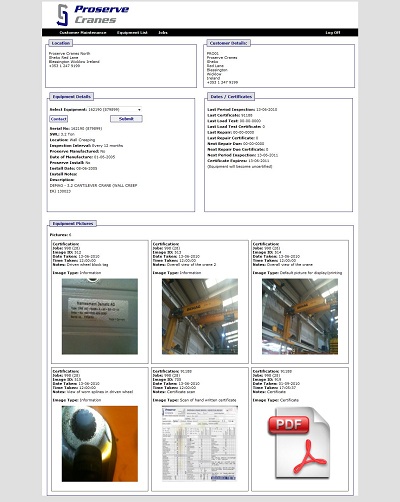 If an HSA or insurance inspection is underway in a factory a customer could (assuming available internet connection via wifi or 3g) accompany the inspector with a laptop, ipad etc and instantly bring up certificates, proof of scheduled work, service job sheets and photographs and video of repairs of any equipment of interest to them.
In certain cases, and with the customers consent and control, a customers insurance provider could be provided with access to their data and/or included as a contact to be notified when repairs, inspections, services etc are carried out.
For more information and access to sample data:
Tel: +353 (0)1 247 9199 (this number is monitored 24 hours for service/breakdown)
Email: sales@proservecranes.com